Update your Knowledge about Patellofemoral Pain by Gaining Insights into the Latest Research
Patellofemoral Pain is the most prevalent knee complaint we see in clinical practice. Although very common, a cookie-cutter that is often used will not lead to optimal treatment outcomes.
For this reason, we have partnered up with knee expert & researcher Claire Robertson from the UK in order to provide you with the latest insights from research regarding the assessment & individualized treatment of patellofemoral pain
Claire Robertson has helped thousands of professionals around the world to assess & treat patellofemoral pain and fat pad irritation by providing on-site courses throughout the years. Finally, she is sharing her knowledge online in her only complete 2-day online version of her course.
Understand & Treat Hoffa's Fat Pad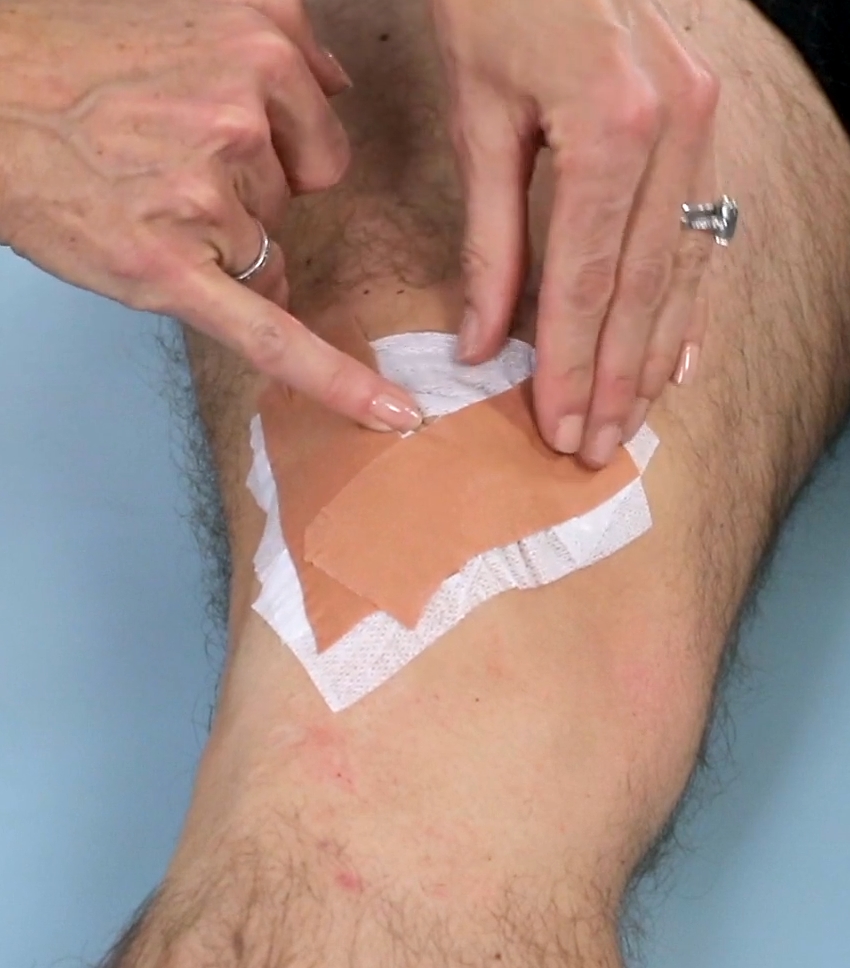 An often overlooked nociceptive drive of the knee is Hoffa's infrapatellar fat pad.
Although less prevalent, this condition needs to be diagnosed properly as it requires a very different treatment approach to other conditions in the knee like patellar tendinopathy or patellofemoral pain.
In this online course, you will learn exactly how to recognize and help patients suffering from an irritation of the infrapatellar fat pad.
---
Here's An Overview Of What You Will Learn in This Online Course:
🍗 1. Overview of the Patellofemoral Joint (37 min)
📜 2. Assessment: Subjective & Structural (1h 3min)
💪 3. Assessment & Treatment of Contractile Structures (1h 24min)
🩹 4. Taping & Bracing (22 min)
🤕 5. Highlighting Specific Scenarios (31 min)
🎿 6. Sport-specific Rehabilitation (41 min)
😟 7. Psychological Considerations (30min)
🥩 8. The Infrapatellar Hoffa's Fat Pad (1h 32 min)
🏆 9. PFP & Hoffa's Fat Pad Case Studies (1h 23min)
🎓 10. PFP Course Quiz (33 min)
---
Create a Tailored Rehab Program based on Injury Type & Return to Sport Demands
This online course will answer all of the questions you have always had about specific injuries and their consequences on the patellofemoral joint and what to pay attention to when you are working with athletes with knee pain.
Claire Robertson is specialized in second opinions in difficult knee cases and will teach you how to manage these challenging cases as well.
---
Save Yourself Years of Costly Trial & Error Learn from a Top Expert in The Field
Why waste years and money struggling along, trying to figure things out for yourself? You can save this time and money and get a much better result when you follow an online course that is completely up-to-date and aligned with the latest research in the field of knee rehabilitation! This will be the first and last course you will need in order to learn exactly how to assess & rehab patients with patellofemoral pain & infrapatellar fat pad irritation.
Are you ready to become a knee specialist from the comfort of your home? Then claim your seat on our "Patellofemoral Pain & Hoffa's Fat Pad Syndrome" online course with Claire Robertson while you still can.
---
About the Instructor
Claire Robertson qualified in 1994 with a BSc(hons) Physiotherapy. She has since obtained her MSc Physiotherapy, in 2003, and PGCE in 2006. Claire has worked in the NHS, academia and private practice, and currently runs a specialist patellofemoral clinic at Wimbledon Clinics spending an hour per patient and liaising closely with their treating clinician. Claire is also the physiotherapist for the Warren Smith ski academy.
Claire has lectured internationally and has many research papers and editorials published in internationally peer-reviewed journals. She is also a reviewer herself for Physiotherapy Research International, Physical Therapy in Sport, Clinical Anatomy, and Physiotherapy. Claire runs her own post-graduate course on patellofemoral problems for physiotherapists.
In December 2012 Claire was awarded a research grant by the Physiotherapy Research Foundation to investigate the meaning of crepitus to patients with patella femoral pain syndrome.
---
Here's Another Taste Of What You Can Expect When You Book the Online Course
👣 ​ A step-by-step guide on patellofemoral pain & Hoffa's fat pad syndrome by a world-leading expert:
Claire's expertise will help you to assess and treat patients with PFP & fat pad syndrome by following evidence-based principles.
⌛ Study Whenever You Want:
You can start this course whenever you want and study at your own time and pace. This is no silly 2 day weekend online course or a course that you have to attend at fixed times.
You will also get unlimited access so you can always come back and refresh your knowledge. No annoying subscription models, but a ONE-Time payment (or pay in 3 installments)
📚 The Latest Research & Science:
References are used from hundreds of scientific papers (direct links to PubMed provided) and further reading material for you to dig in deep!
💰 Fully Packed Content worth €300+:
8.5 hours of content in 10 units that would normally cost €300+ if we compare it to the usual CPD courses which charge €250-300/7h
🎲 ​ Gamified learning experience:
Collect credits by solving video quizzes and handing in the case study to lock in the learning and test your knowledge in the final course quiz
🤓 Active Learning Approach:
You don't learn from just watching hours of videos. We believe that different media and engagement is necessary to really improve your knowledge
📱 ​Accessible on All Devices from Wherever You Are:
Access the course on your laptop, phone, or tablet from the comfort of your home or while you're on the bus, tram, or train
🎓 CEU/CPD points:
Course accreditation requested in the US (40 states), the Netherlands (Keurmerk, KRF), Belgium (PQK), the UK & Australia
🏆 Award-Winning Team:
Physiotutors have won the award for the best Bachelor Thesis in Europe in Physiotherapy for their research on Blended Learning in Healthcare back in 2016. We have more knowledge and experience in the design of online learning
☝️ ​ #MoreThanAWebinar:
Not all online courses are created equal! So many products are popping off the ground everywhere with lousy video content recorded on a webcam. And also…don't make the mistake to waste your hard-earned on a 2-day zoom call with a speaker!
---
Claim Your Seat on Our Online Course Patellofemoral Pain & Fat Pad Syndrome (Worth €300+)
*Covers 8.5 hours of content. Compared to the usual costs of a 14-hour weekend CPD course rating at €250-300/7h
This is ONLY for people who are serious about becoming better clinicians. So if you don't want to put in the work and the study time to really become better, then this online course is probably not for you and it's better to just watch a webinar for an hour to relax at the end of the day. But if you ARE serious, then save yourself years of costly trial & error by learning from the best in the field.